Mediterranean Orienteering Championships
Racing crazy fast head to head through tiny alleyways in beautiful, hilly old towns is an experience to remember! I really stressed my orienteering skills to the limit and I have learnt a lot about what to work on before the big Sprint Relays I am aiming for this year. It was great fun training together as a team and it was very useful to work with Emil. - Peter Hodkinson, Perfomance Squad.
Last week a group of 10 British senior sprint athletes spent 4 days at an international sprint camp in Puglia (South East Italy) before travelling across the mountains to the west coast near Salerno to take part in the Mediterranean Orienteering Championships. We were delighted to welcome Emil Wingstedt (3xWOC Gold, 4x EOC sprint Gold) as our technical coach for the whole trip. Emil was inspirational on many levels and the team has returned with the strong belief that we are on track to win a sprint relay medal at WOC 2017 in Estonia.
It is still pre-season and a camp like this is a perfect opportunity to get feedback on how the winter training is progressing. Having over 100 world class athletes training together creates a unique opportunity for comparing aspects of performance such as speed and decision making. The fact that the camp included 7 head to head races added to the quality of the feedback and for GB athletes this was further enhanced by having Emil with us. Emil filmed nearly every GB athlete on nearly every training! On the first day for example he ran behind them all in qualification and then followed all the semi-finals and finals a remarkable 35km of sprinting at race pace!! This video shows Kris, Peter and Jonny in the sprint qualification race in Vieste.
A fantastic week in Italy made better with some exciting new sprint formats in incredible (and incredibly technical) Italian towns – Jonathan Crickmore, Development Squad.
It's been great having the opportunity to try out the new sprint formats against a top quality field of international orienteers. Working with Emil has also given me a new insight into my sprint technique that i think will be really beneficial. I'm excited for the upcoming races & preparing as a team to give our best in the mixed sprint relay! – Alice Leake, Development Squad.
Every spare moment was spent analysing the races step by step. If it is on film there is nowhere to hide! It is possible to assess whether you slow down to look at the map and see how much you hesitate compared to others. Is it quicker to do a u turn at a control or flow through? To arc round corners or take the shortest line? what is the best technique for descending steps etc. etc. We talked tactics and strategy till late in the night and have come away with a winning formula for how to train towards WOC.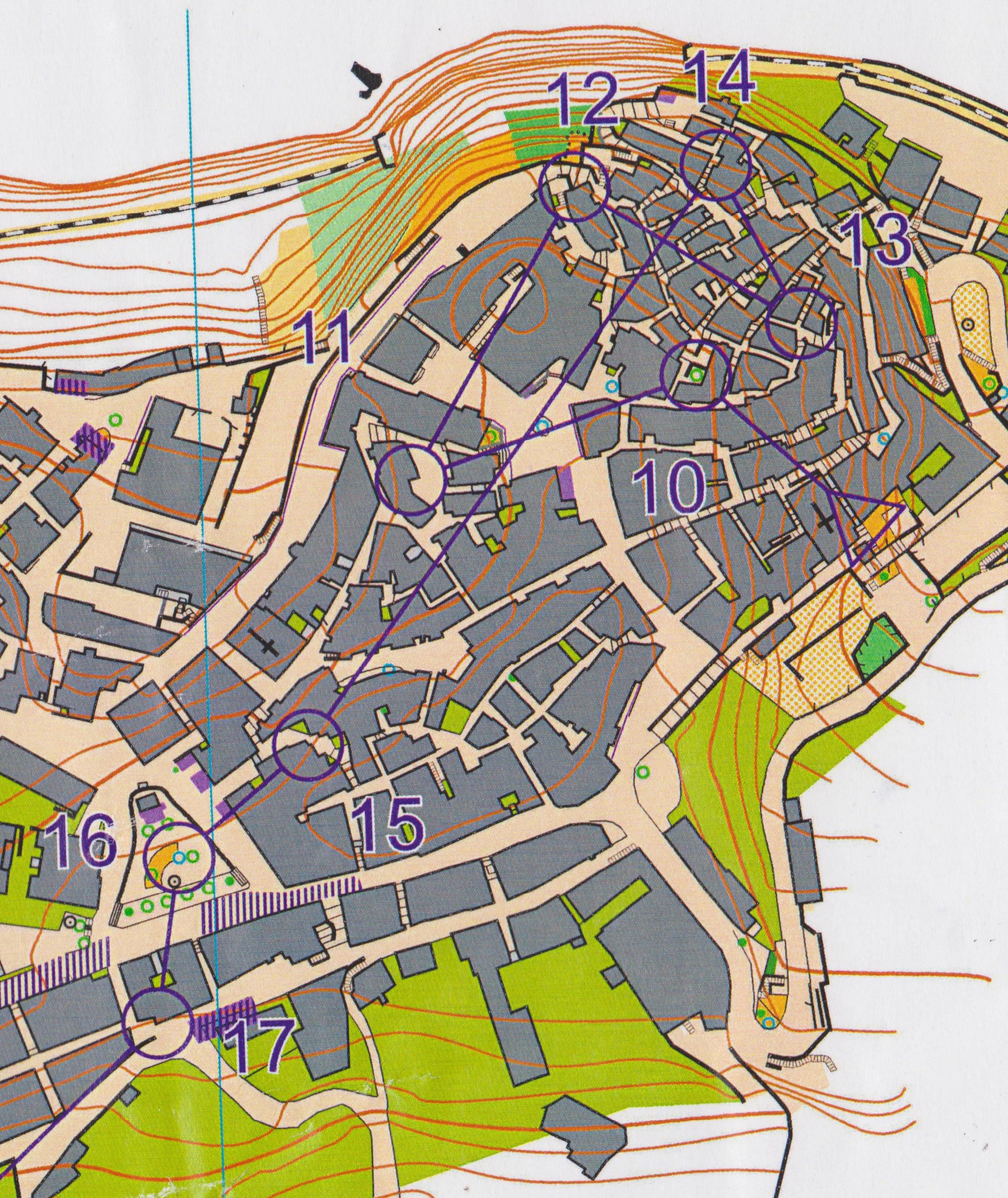 This terrain was very technical and requires complete focus on reading the map. Relocation is rarely an option. The training load was hard, 10 races in 8 days, with individuals clocking up approximately 150 km of running (mostly at high pace and including running up and down probably 2000 steps per person), 1:1 coaching analysis and at least two sessions of group analysis and planning a day. Despite this we managed to engineer a 'rest' half day to explore and make the most of being in a spectacular part of Italy. Some athletes ran up Vesuvius and most of us spent a few thought provoking hours exploring Pompeii.
The results from the training races and from MOC can be viewed here. A really encouraging set of performances with several of our runners posting excellent results in a world class field. All our Athletes have returned with a wealth of information on their current performance level and are inspired to work hard towards achieving our aim of a sprint relay medal at WOC 2017
I really enjoyed the week, getting back into the swing of sprint orienteering, and stoking the fire for the season ahead. I believe we are all ready to push on and make continued improvements in the coming year. – Kris Jones, Performance Squad.
This week has been great! Filled with so many amazing sprint areas and experiences. I feel like I've learnt so much and am very much looking forward to the races coming up. – Megan Carter-Davies, Development Squad.
Item posted by Scott Parker, Administrator, on Behalf of Liz Campbell, Performance Squad Coach.
---
Posted on Friday 17th March 2017