British Championships on 6th May
BTOC 2017 was held at YMCA Lakeside, Windermere on the afternoon of Saturday 6th May. There was an Elite and a Standard course. Results are on the British Orienteering Championships website.
A combination of circumstances led to it not being possible to stage a BTOC in 2016, or in early 2017, and it has now been decided that this event will not be held.
British Trail Orienteering Championships 2015
The 2015 British Trail Orienteering Championships were held in Staple Edge Wood, Forest of Dean on the afternoon of Saturday 18th April, after the British Individual FootO Championships.
Full results, together with maps, solution sheets and photos, are on the British Championships website results page http://www.boc2015.org.uk/page/results.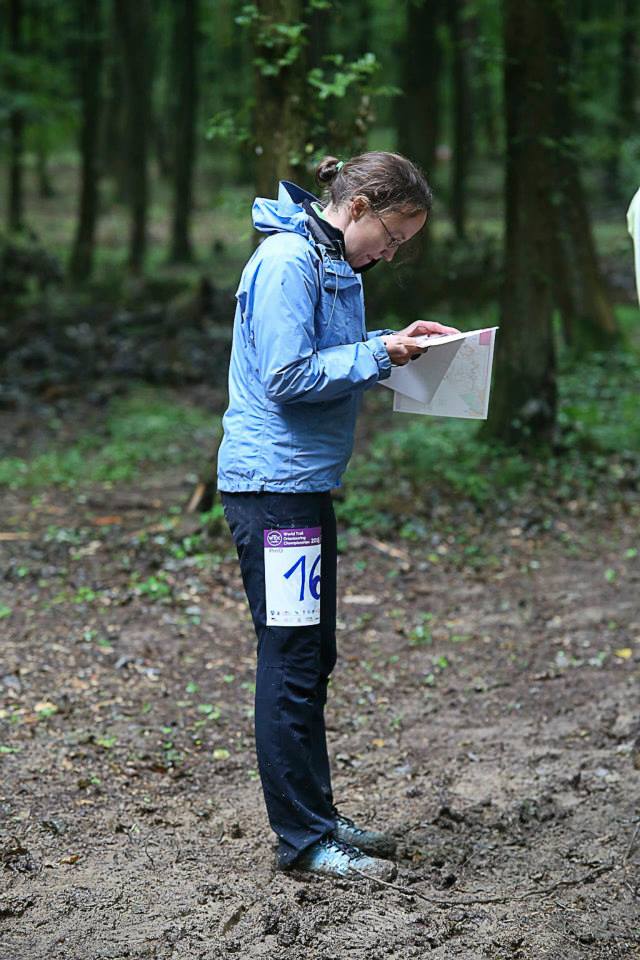 Anne Straube, British Open class Champion 2015
Event report by Clive Allen:
The competition was in an area of old mine workings on sloping ground, with many pits, knolls, gullies and other ground features. Old charcoal-burning platforms, a common feature in the Forest of Dean, also figured prominently in places. Planner Dick Keighley together with the help of mappers and officials from NGOC created courses with plenty of variety which kept competitors thinking hard throughout. The courses were along both sides of a fairly level forest track, with the elite course having 12 controls on the outward section and, after a map exchange, 9 on the return - someof these using the same kite clusters as on the outward route and others using new ones.
The competition started with a couple of timed controls, the second of which gave the greater problem, careful judgement of relative height and contour shape being necessary. Then we were straight in to the most detailed section of the terrain where careful contour reading was essential for success.
The planner had one situation he had no control over - the rapid unfurling of leaves on the deciduous trees in the area, day by day, due to the warm and sunny weather. Every day the visibility in the forest diminished further, and some last-minute chopping of branches and other vegetation was necessary to ensure the controls remained fair.
Thanks go to everyone who planned and helped in making this a challenging British Championships.