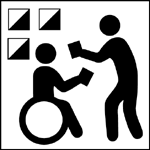 Welcome to the British Orienteering TrailO Minisite!
Trail Orienteering is one of four disciplines in orienteering - the others are Foot, Mountain Bike and Ski Orienteering. TrailO provides an orienteering competition on equal terms for people of all levels of physical ability, including those who are physically challenged and may be confined to wheelchairs.
TrailO has two formats - TempO, the 'sprint' form of TrailO where all competition activity is timed, and PreO, the 'classic' format with generous time limits but with one or more timed controls. More information on PreO and TempO can be found here. At European and World Championship events there are also relay competitions. Virtual TempO is also now a very popular form of competition.
This site provides news, information and resources related to British Trail Orienteering. We also have a Facebook site: 'British Trail Orienteering'. In the chapters on this site you should be able to find what you would like to know about TrailO and training and competition opportunities; if you believe the site could be improved with more or better information, please send an e-mail to the webmaster, Clive Allen.
Please click here to view other countries dedicated to Trail Orienteering and to access additional resources provided by the International Orienteering Federation.