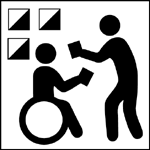 This site provides news and resources related to British Trail Orienteering. See also the Facebook site 'British Trail Orienteering'.
Trail Orienteering is one of four disciplines in orienteering - the others are Foot, Mountain Bike and Ski Orienteering. It provides an orienteering competition on equal terms for people of all levels of physical ability, including those who are physically challenged and may be confined to wheelchairs.
TrailO has two formats - PreO, the form of competition used for many years now, and TempO, the 'sprint' form of TrailO where all competition activity is timed. More information on PreO and TempO can be found here.
Please click here to view other countries dedicated to Trail Orienteering and resources provided by the International Orienteering Federation.