Start to the Talent Squad Training Year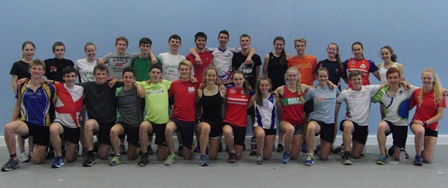 The 2015/2016 Talent Squad programme began this weekend at the University of Lincoln where the athletes worked with programme staff and other experts on their training programmes and plans.
The camp began with introductions and an explanation of updates to the programme followed by a 'feedback and feed forward' session with athletes reflecting on the 2015 season before setting goals and making plans for the 2016 season.
The practical activities included a functional core circuit session, plyometrics, mental toughness and injury prevention, providing ideas for athletes to incorporate into their training plans, as well as an early Sunday morning recovery run.
Thanks goes to the University of Lincoln for providing the facilities and experts Dan Bishop (Strength and Conditioning) and Dr. Lee Crust (Sport Psychology) and also to programme staff and volunteers: Kim Baxter, Bashir Hussain, Paul Murgatroyd, Jackie Newton, Ed Nicholas, Mark Nixon and Heather Thomson.
Hide full report